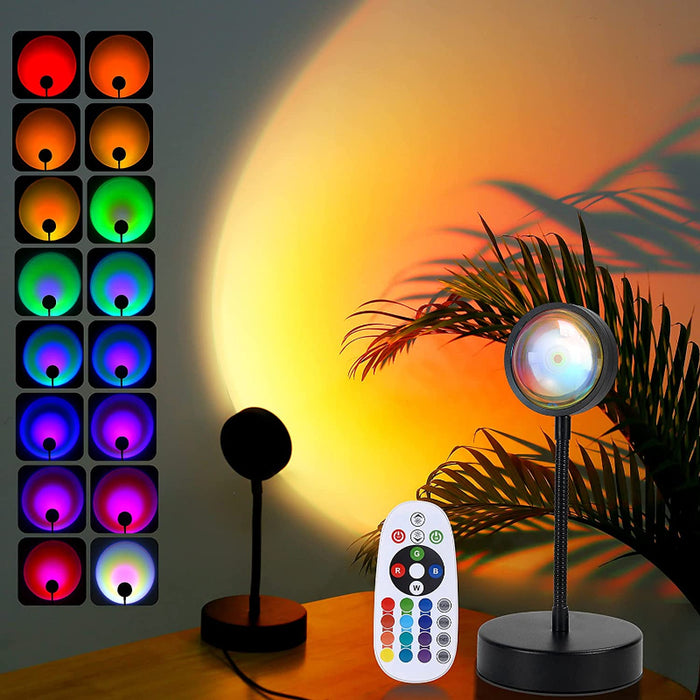 Sunset Lamp Projector Led Lights For Bedroom Night Light RGB Lights Sun /Sunlight /Sunrise Lamp 10w 360° Rotation Rainbow Projection
Visitors are browsing our store
Hurry! this special sale ends in

In Stock
Introducing the Sunset Lamp Projector Led Lights, the perfect addition to any bedroom! With its advanced technology, this night light features RGB lights that allow for a beautiful range of colors and a stunning sunset projection that will leave you in awe. The lamp is designed to emulate the natural beauty of the sun, sunlight, and sunrise, providing a calming and peaceful atmosphere for your sleep.
Specifications:

Sunset Lamp: A projector lamp light up your room with sunset light/ Rainbow light, and color changes as sky blue, rose pink, forest green... All 16 colors condensed into an incredibly romantic atmosphere. Inspiration comes from life and benefits your soul.

Flexible angle adjustment: 360°twisting in the horizontal direction, 180°front and back bending in the vertical direction. You will not be affected by the angle when using the projection lamp. The hose technology of the sunset lamp solves the problem of rotation lag and has greater freedom of use.

High-quality Designed: 59-inch cable with switch, 5V-USB socket can be connected to more devices, equipped with 10W LED lamp lights, brighter and longer life than ordinary floor lamp beads. We use a 4.72 inches weight-bearing base with a non-slip cotton pad to ensure stability. The lamp body is made of high-quality PC and steel, thickened and stable painted.

Multiple color changing modes: The appropriate thickness of glass(2.9 inches) is designed according to optical principles which have a long light transmission distance and is 100% free of impurities. 16 color changing, equipped with RGB LED and wireless remote control, required battery model: AAA*2 (not included). 4 modes available with the atmosphere rendering: FLASH/ STROBE/ FADE/ SMOOTH.

Portable size: The lamp tripod can be rotated and adjusted. The Sunset Lamp head can be rotated 360 degrees, By changing the rotation angle and distance of the illuminator, different circular lights can be emitted from different angles, thereby bringing different effects. The farther the distance is, the larger the projection projected on the wall or ceiling.

APP and Remote Control Sunset Lamp: This is a smart sunlight lamp, you can change the color of the light, adjust the brightness of the lamp, and choose a light mode of this sunset lamp projector to make it become a party light or night light through the APP on the phone or the remote control; Super convenient and versatile!
Features:
Lamp Type:

 

‎Desk Lamp

Style: Single Remote Control; Updated APP& Remote Control




Dimensions: Single Remote Control-4"D x 4"W x 10.4"H; 

Updated APP& Remote Control- 

2"D x 2.7"W x 10"H

Light Source Type: LED

Special Features: 

Rechargeable, Color Changing

Material: 

Aluminum

Finish Type: 

‎Aluminum

Power Source: Corded Electric

Controller Type: Remote Control, Touch

Shade Material:

 

‎‎Alloy Steel

 



Switch Style: Dimmer


Connectivity Technology: USB