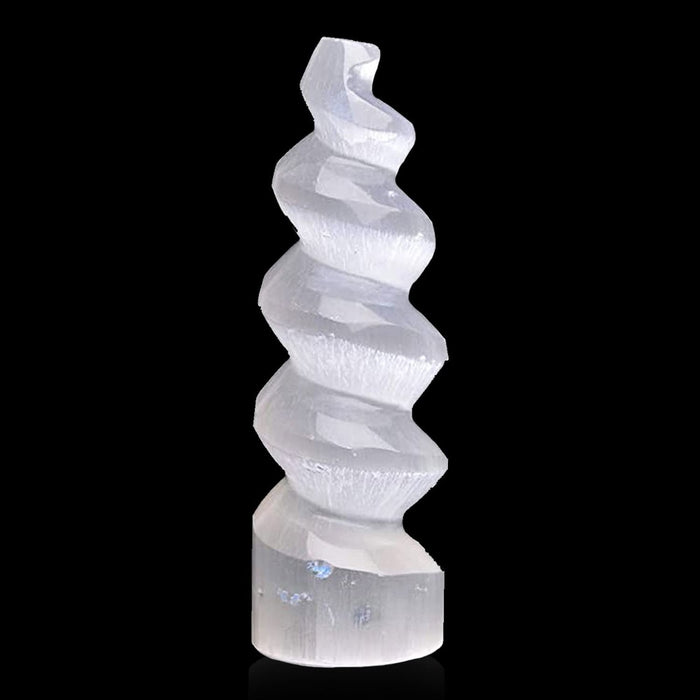 Selenite Crystal Lamp | Authentic Handmade Moroccan Selenite
Visitors are browsing our store
Hurry! this special sale ends in

In Stock
Create a serene, relaxing ambiance at your home or office with Selenite Crystal Lamp. 
Natural crystal selenite lamp lamps are produced from a naturally clear or opaque form of gypsum crystal.
Light passes through it easily, creating a warming glow.
The selenite, in its natural form, has been hollowed out to create a unique lamp, and the tower effect is achieved by splitting and chipping along natural cleavage surfaces.
Each lamp is unique and has huge benefits for your mental health. Selenite has one of the highest vibrations of all minerals. It is a calm stone that instills deep peace and is excellent for meditation or spiritual work.
Selenite can be used to create a protective grid around a house, creating a safe and quiet space that does not let outside influences in.
It had been used to bring awareness, as well as promote a peaceful environment. Selenite brings clarity to the mind and is an excellent stone to meditate with.
FEATURES :
The pure gypsum crystal stone is said to remove toxic negative energy and cleanse the mind through pure calming effects.
Selenite Lamp Light Waves Make People's Mind Sober, Helps to Stabilize and Balance the Emotional Body, Selenite is a Calm Stone that Instills Deep Peace and is Excellent for Meditation or Spiritual Work.
Selenite Crystals Help to Remove All Energy Blockages In the Body, to Ensure a Calm and Peaceful Environment, Guards against Epileptic Seizures.
Place it in Any Area or Space to Help Neutralize Negative Energies and to Ensure a Calm and Peaceful Environment.
Customer Satisfaction: We Always Stand Behind Our Products and We Listen to Our Customers.If For Any Reason You Feel Our Selenite Lamp Is Not For You,We Offer a 30-Day Money Back Guarantee.
| | |
| --- | --- |
| Product Dimensions | 4.25"D x 4.25"W x 7.5"H |
It's incredible design will help you relax stress symptoms and have cozy moments whenever you use it.
Himalayan Glow Hand Carved works to enhance the ionic balance of your spaces. The negative ions work against electromagnetic radiation and create a cleaner and purifying space for you.