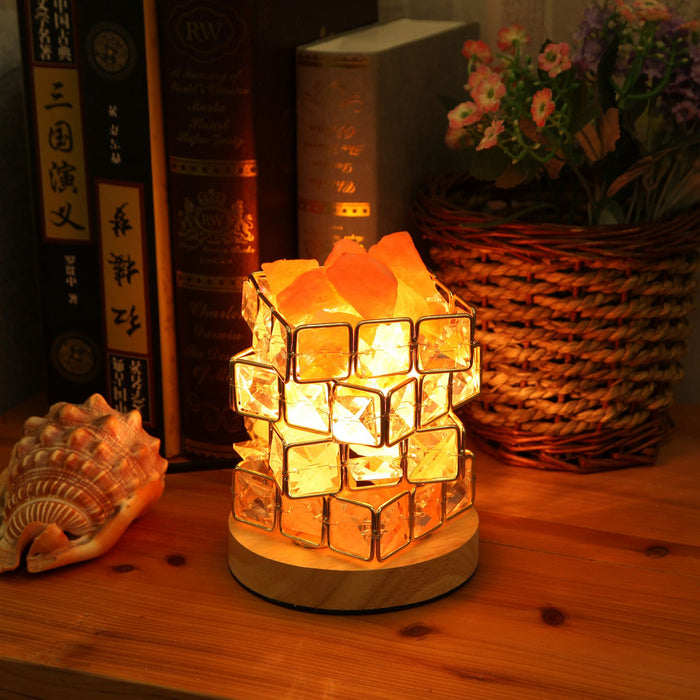 Rubik's Cube Serenity Himalayan Salt Lamp
Visitors are browsing our store
Hurry! this special sale ends in

In Stock
Save

$49.99 USD
Original price
$99.98 USD
Create a serene, relaxing ambiance at your home or office with Classic Himalayan Salt Lamp Pink Salt Glow Rock.
It also releases negative ions into the air to create an ionizing effect to purify the air. This salt lamp uses authentic, hand-selected Himalayan salt rocks.
The pink and orange case helps to create a peaceful warm glow hue for your nighttime and helps in reducing Electromagnetic radiations as well as airborne infections.
It is great for individuals suffering from asthma or any other form of allergy symptoms.
Features:

Wonderful holiday gift: As the Himalayan salt lamp is decorated with acrylic diamonds looks gorgeous like lava especially when lit up at night. Gift it to your loved ones to their delight.
Air purifier: Our salt crystals are mined in Pakistan, which is rich in vital mineral substances. The heating of the salt causes the crystal to release negative ions to remove polluting particles like dust, pollen, and cigarette smoke in the air.
Neutralize Electromagnetic Radiation: You would know how useful a salt lamps are to do at counteracting the negative effects of electromagnetic radiation when you constantly feel tired in offices or live in a metaphorical ocean of electromagnetic (EM) radiation.
Create a romantic ambiance: Dimmable Switch is used to a custom lighting atmosphere. Illuminate your bedroom, office, yoga space, or lounge with a warm, pleasant, and relaxing amber glow to soothe your mind and body.
SIZE :
Weight - 1.726kg
Height - 14 cm
Length - 12 cm