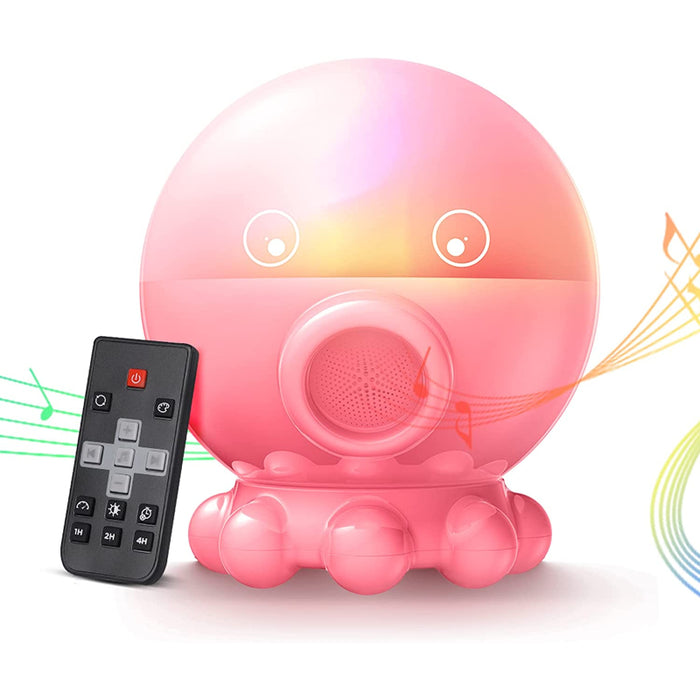 Chiristmas Gift Night Light Projector for Kids, Ocean Light Lamp for 3-8 Year Old Boys, 4 in 1 Star & Moon Projection for 2-10 Year Old Girls, 9 Lullaby Songs, Toddler Toys for Kids, Remote Control
Visitors are browsing our store
Hurry! this special sale ends in

In Stock
The Dinosaur toy LED lamp Ocean projector & Star Moon Projection for kids is composed of safe and nontoxic eco-friendly fabric. Choose LED beads that shine evenly, are gentle, flicker-free, and safe for children's sensitive eyes. The Dinosaur toys illuminate the darkness and alleviate worries when resting. The accompanying USB cord takes roughly 2 hours to fully charge the built-in 1200mAh lithium battery, permitting the youngsters to transfer the dreamlike world wherever they choose inside the apartment. Make it the ideal ornamental illumination for a child's room, bedroom, living room, or balcony.
Specification:

Perfect Christmas Decoration, Best Christmas Gift for Kids. Whether you're looking for a birthday gift or toy, a stocking stuffer Christmas gift or ocean-themed party supplies or party favors this will be the gift that will be a fantastic gifting choice for kids. Extra remote control is included to make it more convenient to switch lighting modes and music or set a timer.

Octopus Toys Projection Lamp. Adjustable angle, 360° rotatable LED light projector delivers 17 lighting effects, getting you immersed in the scene! It is a unique birthday, Christmas, or Easter gift for kids or friends. Educational Toys for Little Baby. The Octopus Decoration Toys come with two projection films. Three projection themes are available on this star projector to create a dreamy world with the stars and moon or sea world projected on the ceiling or wall.

Bedtime Lullabies, Restful Sleep. 9 lullaby songs of the night light for kids help coax the babies or kids into sweet dreams. Having this light in kids' rooms is the first step to developing a healthy independent sleep habit by creating an inviting sleep environment. All kinds of patterns and colorful lights will attract their attention. Meanwhile, the night light helps improve kids' understanding of the world.

Night Light, Peaceful Night. The Octopus toys light up the darkness and reduce fears while sleeping. The built-in 1200mAh lithium battery requires about 2 hours to get a full charge with the included USB cable, allowing the children to move the dreamy world anywhere they want inside the house. Make it such a perfect decorative light for the kids' room, bedroom, living room, or balcony.

Octopus Lamp, Safe Material. Cute cartoon octopus-shaped star projectors are getting popular among boys and girls. Besides appearance and performance, what makes an excellent toy for kids should be safety. Safety-certificated and eco-friendly material does not harm the human body or the natural environment. Utilize LED beads that light equally, being soft, flicker-free, and harmless to the kids' tender eyes.
Technical Details:

Style: Modern

Color: ‎White

Product Dimensions: ‎

‎5"D x 4"W x 4"H

Special Feature: Color Changing

Light Source Type: ‎LED

Finish Type: Glossy

Material: ‎Plastic

Lamp Type: Table Lamp

Room Type: Bedroom

Power Source: Battery Powered

Shape: Scrolling, Circular

Controller Type: Remote Control

Switch Style: Push Button

Number of Light Sources: ‎2

Connectivity Technology: USB

Included Components: ‎Batteries included

Item Weight: 13.4 ounces

Assembled Height: 4.8 inches

Assembled Length: 31 inches

Assembled Width: 72 inches

Light Direction: Adjustable

Batteries Included: Yes
Package Includes:

1x Table Lamp

Batteries included