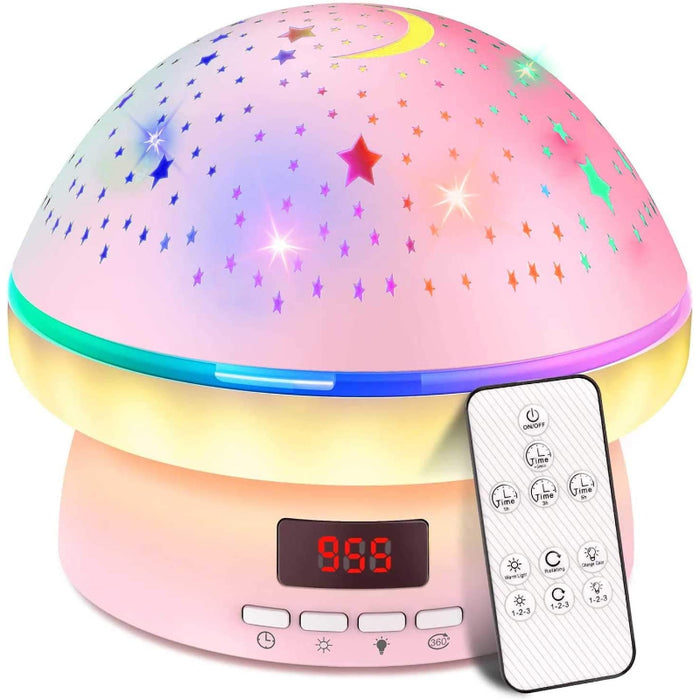 Toys For 3-8 Year Old Girls Boys, Timer Rotation Star Night Light Projector Kids Twinkle Lights, 2-9 Year Olds Kids Gifts Kawaii Birthday Easter Gifts For Kids,Gift For Teen Toddler Baby Girls Boys
Visitors are browsing our store
Hurry! this special sale ends in

In Stock
This light projector is fully equipped with the latest technology. It makes a very warm surrounding full of stars that the kids enjoy. You can have a nice little playful and quality time with your kid under the starry projection. It has a combination of 16 colors so that you can set the tone according to your convenience. LED lights do not take up much energy and are very easy to use.
Specification:

Timer Design: The New generation star night light supports 5-999 minutes to set the time control as your preference. The night sky projector will turn off automatically when the set time is ended, it would not disturb you or your baby's sleep. Also, it is a cute mushroom design.

Projector Mode and Night Light Mode: The LED night light comes with 360 Degree Rotating with 16 color combinations and touch control to adjust 16 different colors as you like. The Night Light Mode provides soft light and white noise for midnight newborn feeding sessions, the comfort of a nightlight for kids or adults.

Starlight projectors come with a remote. You can set the timer for 5-999 minutes, or set it with 1 hr, 3 hr, and 5 hr by remote control. Also, you can adjust for three levels of brightness (25%, 50%, 100%), to meet your different brightness needs. Gentle eye care night light for girls/boys.

Easy To Use: Starlight projectors are easy to set up and operate, and some children can set theirs unassisted. Once powered, choose the projection and timer settings to start the show. You have the choice of various colors as well as timers, bband n some models, you can even program your favorite settings.

Gifts -- Best Gifts to your kids. Mushroom Design is so cute and kawaii. The one deeply loved by kids.
Technical Details:
Color: Pink, Blue, Black

Product Dimensions: 5"D x 5"W x 5"H
Special Feature: ‎timer design, star projector and night lighting lamp, remote control, and button control, 16 colors changing lights, 360-degree rotation
Light Source Type: LED
Finish Type: ‎Unfinished
Material: Plastic
Room Type: Living Room
Shade Color: Multicolor
Power Source: ‎USB

Shape: Mushroom

Controller Type: ‎Remote Control

Switch Style: Remote

Number of Light Sources: ‎4

Age Range (Description): ‎All Ages

Wattage: ‎4 watts

Item Weight: 10.6 ounces

Product Dimensions: ‎5 x 5 x 5 inches

Finish: Unfinished
Pattern: Mushroom design, project stars moon

Voltage: 5 Volts

Luminous Flux: ‎110 Lumen

Special Features: Timer design, star projector and night lighting lamp, remote control, and button control, 16 colors changing lights, 360-degree rotation
Batteries Included? ‎No

Batteries Required? ‎No