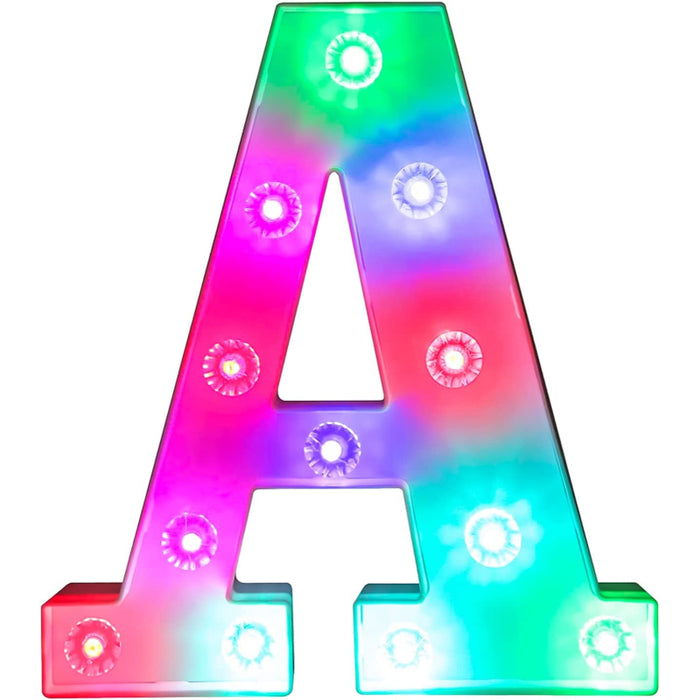 Light Up Letters Lights - Colorful LED Letters Lights Alphabet For Romantic Valentines Day Night Lights Wedding Birthday Party Home Bar Decor
Visitors are browsing our store
Hurry! this special sale ends in

In Stock
This letter light is perfect for parties when positioned in the living room and brings the bedroom to life. Also ideal for gatherings. Colorful letter lights may be used to bring mood and enthusiasm to your party! LED is a more modern cool light source that does not emit radiation like incandescent and fluorescent bulbs. Thermal contraction and expansion will not influence a lot of infrared and ultraviolet light, and nearly no incandescent lamp, unlike the existing heat effect. It will not cause bulb yellowing, will not hasten lamp aging, and will not have a greenhouse impact on the adjacent ecosystem.
Specification:

【Safety and Energy Saving】Made of advanced LED electronic device materials, non-toxic and durable quality materials designed to withstand heat and short circuits, making it ideal for safe manufacturing. No burns after long time use, safe to touch. No sharp parts, also suitable for children to use

【Less heat】LED is a more advanced cold light source, it is not like incandescent and fluorescent lamps and radiation a lot of infrared and ultraviolet light, almost no incandescent lamp like the current heat effect, will not be affected by thermal expansion and contraction. It will not lead to the yellowing of the bulb, will not accelerate the aging of the lamp, and will not have a greenhouse effect on the surrounding environment

【Easy to use】Powered by 2 AA batteries (not included), no wires needed, when you put this light on a table, desk, or shelf, it is the perfect accessory for your home. Also perfect for your nursery, office, gazebo, and bedroom, suitable for wedding parties, Christmas, New Year, birthday parties, festivals, and bar decorations. etc.

【Great Home Decor】 This letter light can be placed in the bedroom to add to the celebration, and it's ideal for parties when you put it in the living room and bring the bedroom to life. Also perfect for parties Light up your party with colorful letter lights to add atmosphere and excitement to the room!

【Spell out imagination】 The 26 letters plus & numbers offer endless possibilities for creating messages. Spell out your favorite name or phrase with these beautiful light-up alphabets, such as "Bar" in a wine rack, "LOVE" at a wedding, or add an acronym to a child's room.
 Technical Details:

Style: Cloud
Color: Cloud
Special Feature: ‎Nursery Lamp, bedside lamp
Light Source Type: ‎LED
Finish Type: Matte
Material: Plastic
Shade Material: ‎Acrylonitrile Butadiene Styrene, Plastic
Power Source: Battery Powered
Switch Style: ‎Slide
Number of Light Sources: ‎2
Theme: Wedding
Included Components: Bulb, Battery
Mounting Type: Free Standing, Wall Mount
Wattage: ‎3 watts
Item Weight: 10.5 ounces
Product Dimensions: ‎8.27 x 5.71 x 2.17 inches
Size: Mini size
Finish: ‎Matte
Item Package Quantity: ‎1
Batteries Included: ‎No