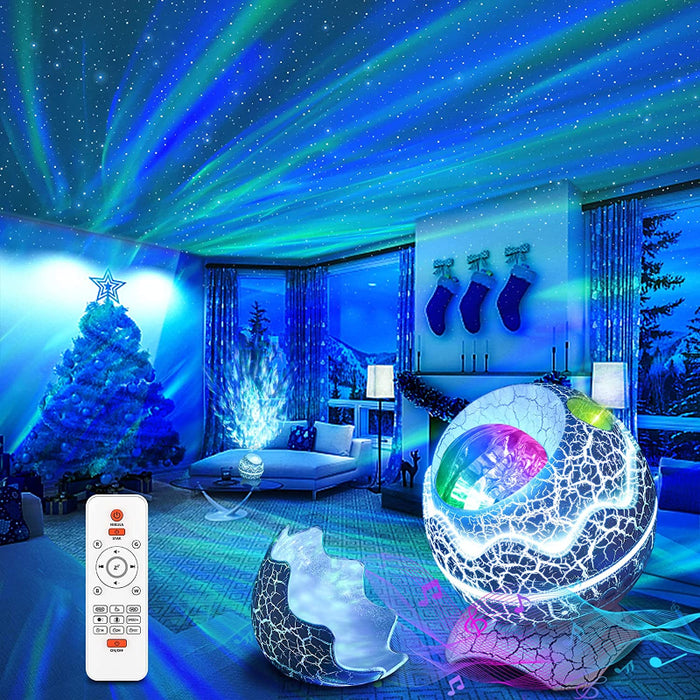 Star Projector, Galaxy Projector for Bedroom, Remote Control & White Noise Bluetooth Speaker
Visitors are browsing our store
Hurry! this special sale ends in

In Stock
This dreamy star projector is a valuable addition to your bedroom. You will have a blissful experience with the projection of this device. It features a 360-degree projection which turns the look of your entire bedroom. The dimmable and remote control feature allows you to set the ambiance of your space according to your choice. This galaxy projector also offers a built-in Bluetooth speaker.
About the item:
4 in 1 Star Projector Night Light - Our star projector combines a projector, nightlight lamp, white noise machine, and music player all in one device, which creates an extraordinary audio & visual experience. Features 14 vibrant colors that project shining stars and memorizing nebula clouds, the starlight projector brings the vast starry night skies indoors where you and your kids can enjoy the peaceful galaxy in your bedroom or kids' room. Enjoy the beauty of space in the comfort of your home.

White Noise Sound Machine - The night light projector includes 19 popular white noise sounds that are both relaxing and soothing while you try to fall asleep or during meditation. Combining both the gentle sounds from the white noise sound machine with the baby-friendly memorizing RGB LED night light will grant an unforgettable experience that will put any soul at ease. Both kids and adults can enjoy this fun and versatile dinosaur egg starry night light projector for every restful night's sleep.

Bluetooth 5.0 Speaker & Voice Control - The galaxy projector features a built-in Bluetooth speaker. Connect your device via Bluetooth to play some music through the galaxy light projector and watch in amazement as the little stars blink and the nebula cloud moves rhythmically to the beat of the music. You can activate the sound function from the remote control and the night lights will flash and change according to the music rhythm or by clapping your hands, resulting in an immersive experience.

Remote Control & Auto-off Timer - Along with the 4-in-1 star projector galaxy light, you also get a remote control that allows you to control color lighting, projection mode, brightness, speed, music selection, volume, and timer. The auto-off timer can be set to either 1 or 2 hours and if forget to set the timer, the device will automatically power off after 4 hours. The remote control and auto timer are easy to use and provide flexibility when trying to set a timer to turn off at a certain time.

 
Technical Details: 
Product Dimensions - ‎6.3"D x 4.3"W x 6.3"H
Light Source Type - ‎LED
Finish Type - ‎Painted
Material - ‎Plastic
Lamp Type - ‎Desk Lamp
Room Type - ‎Kids Room, Bedroom, Living Room
Power Source - ‎Corded Electric
Controller Type - ‎Remote Control
Switch Style - ‎Push Button
Theme - ‎Music
Connectivity Technology - ‎Bluetooth
Included Components - ‎Galaxy Projector, Remote Control, USB C Cable, Base, User Manual included
Wattage - ‎6 watts
Finish Types - ‎Painted

Voltage - ‎5 Volts (DC)